Seekster being the number 1 online service provider business in Thailand, has a high phone and internet usage and Dtac Worry Free SIM is all what we need! It provides faster internet and much more suitable yet cost effective packages.
Currently, SMEs contribute 36% of Thailand's GDP and there are more than 3 million SME's operating in the country which makes up 99.7% of Thai businesses. These enterprises play a significant role in the Thai economy. SMEs could also lead to more equitable income distribution in the future as they provide employment opportunities to both skilled and unskilled labour. Thus, the development of SMEs plays a crucial role in the development of Thailand's industrial sector as SMEs posses several desirable characteristics such as economic use of capital, high manual labour and a better distribution of generated income.
Therefore, it is extremely important for SMEs to constantly monitor the changing customer behaviour and adjust accordingly in order to succeed in a competitive market. It can be seen that in recent times large business are joining hands with SMEs to boost innovation and develop new strategies to add value in the existing products and to increase overall business efficiency.
Most businesses use online channels to connect with customers effectively. It allows them to reach customers anywhere and anytime. Hence, SME entrepreneurs need to choose the most suitable and cost effective package for their business needs.
Since SME and startups are major forces in driving Thailand's economy, Dtac understands the needs of the SME and difficulties startup owners come across. That is why Dtac launched a "SME Comfort" package which is easy to use and allows  businesses to achieve sustainable growth.
Why Seekster chose to use Dtac "SME Worry Free" SIM?
Mr. Chatchan Charanwattanakit, Co founder of Seekster told that there have been a lot of business discussions on daily basis, so the communication must be easy within and outside the workplace and Dtac SME Worry Free tailors its services according to the various requirements of the business.
It alters its packages to be more cost effective for the company
Provides free unlimited phone calls to all networks 24 hours a day
Prevents excess calls and unwanted charges
Provides Full speed internet
A much more flexible service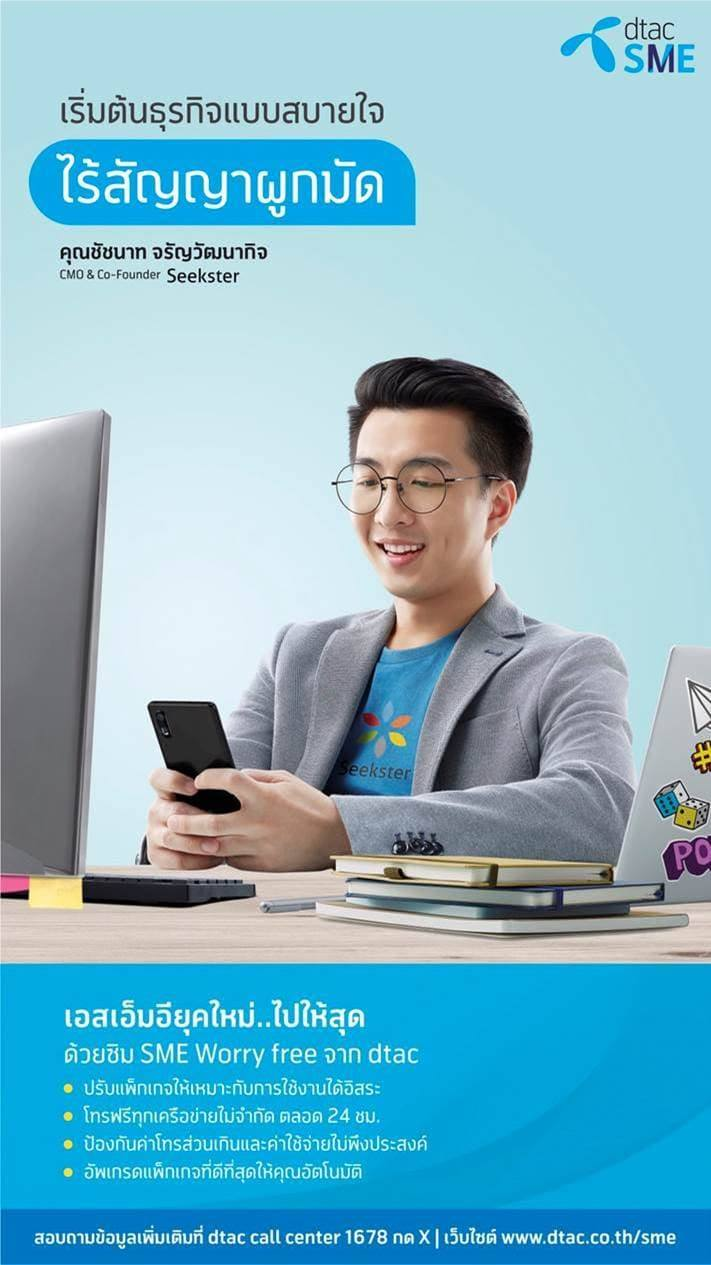 We find Dtac Worry Free to be more convinient and it responds well to the needs of our business. Seekster is Thailand's top service provider and works to make blue collar jobs more efficient through technology. It also helps to provide reliable and high quality services to customers and the online platform is effectively designed to ease out the user experience!
Therefore, Dtac packages allow Seekster to reduce costs and carry out its operations much more smoothly. The fast reliable and cost effective service by Dtac is all what Seekster needs!
Dtac reward members, can ask for more information from Dtac at 1675, press X or website: https://sme.dtac.co.th/dtac-reward

Special offer! Dtac SME customers can receive special discounts when using the office maid service. Just register with Seekster as a dtac SME client this link: https://seekster.co/th/business